---
GURU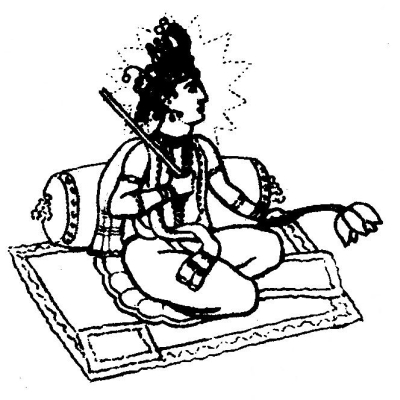 Image from Moor.


Basic Description:
Guru
is the lord of prayer, the father of all sacred prayers, lord of the Satya Mantra, the god of the Word who obliterates enemies of the gods with words of magic. He helped create the universe through his chanting words. There is a close relationship between him and Brahma because of their work of creation. He is also one of the Nine Planets.
Alternate Names :
Brihaspati, Brahaspati, Ganapathi Brahmanaspati, Girisa,
Brahmanaspati
.
History/Practices:
Vedic Aryans used to invoke him for protection in battle and aid in sacrifice. No sacrifice is complete without Guru; he is an integral part of the sacrificial course.
Iconography:
Mythology:
His speech created the universe. He is associated with the planet Jupiter. He protects his worshipers from enemy attack and tames a ferocious enemy.
Riding Animal:
He rides a chariot drawn by eight horses.
Consort:
Tara
Sources:
Corduan,Winfried
Neighboring Faiths .
Downers Grove:InterVarsity Press, 1998.
Moor, Edward.
The Hindu Pantheon
. Los Angeles: Philosophical research society, 1976.
Thomas, P. Epics, Myths and Legends of India. Bombay, India: D. B. Taraporevala Sons & Co. Private Ltd, 1961.