---
GARUDA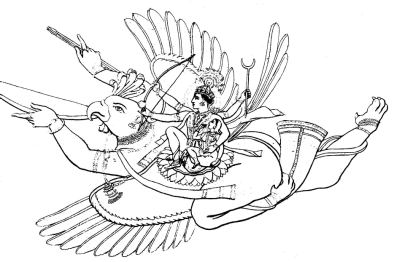 Image from Moor.


Basic Description: Garuda, a mythical bird, half man, half bird. Garuda is the king of birds, Vishnu's mount (vahan/vehicle), and the archenemy of serpents.
Alternate Names:
Wing(s) of Speech, Beautiful Wing, Bird-of-Life, king of birds or lord of knowledge, lord of birds, chief of birds, lord of the sky, son of Ritual Skill, the son of Vision, and the son of Motion, destroyer of serpents (Nag-Anteka)
History/Practices:
He inherited the title "archenemy of snakes' ffrom his mother, who had fallen out with her neighbor Kadru, the mother of snakes.
He is said to have stolen amrita from the gods to ransom his mother's freedom from Kadru. Indra discovered the theft and fought with Garuda. The amrita was won back, but Indra was vanquished and his thunderbolt shattered in the process
Iconography:
Garuda is depicted with the head, tail, and wings of an eagle and the torso and legs of a man. His face is white, his wings red, and his body golden. Green, red, and blue are the predominant colors in pictures of Garuda
Mythology:
Garuda is said to represent the hermetic utterances of the Vedas, the magic words on whose wings man can be transported from one world into another with the rapidity of light, the strength of lightning.
Riding Animal: Garuda is the riding animal of Vishnu.
Consort:
Garuda's wife is Progress (Unnati), also called the queen of knowledge (Vanayika). According to the Mahabharata, Garuda had by her six sons
Sources:
Danliélou, Alain.
The Myths and Gods of India
. Rochester, Vermont: Inner Traditions International, 1991.
Moor, Edward.
The Hindu Pantheon
. Los Angeles: Philosophical research society, 1976.
Rice, Edward.
Eastern Definitions: A Short Encyclopedia of Religions of the Orient
. Garden City, New York: Doubleday, 1978.
Thomas, P. Epics, Myths and Legends of India. Bombay, India: D. B. Taraporevala Sons & Co. Private Ltd, 1961.
Return to Table of Contents